Shipping
**Cut-off time is noon Central, Monday-Friday, meaning orders placed after that time will typically be shipped the following business day.**
General Info
We use the quickest carrier and method available for the merchandise ordered and the service level selected during checkout. Most orders will incur some shipping charge, with this charge being based on service level selected, weight, and destination of package. There may be products or orders that require additional handling fees. Sometimes we run specials for free shipping! Most orders will reach their destination in 3 or 4 business days when using the Standard shipping option because of our location in the middle of the country.
Farm & Home Supply proudly uses the U.S. Postal Service, UPS, and FedEx to ship orders. Most orders have some shipping charge. We provide free shipping on gift cards. Final charges are based on variables such as weight, destination, and service level. Actual charges may vary by order and will be displayed during the checkout process.
We will ship orders using the carrier and service best suited to the contents and requested service timeframe. You have three options for shipping:
STANDARD: most deliveries arrive 2-7 business days after processing. Examples: UPS Ground, USPS Priority Mail, FedEx SmartPost.
EXPEDITED: most deliveries arrive 2-4 business days after processing. Examples: UPS 2nd Day Air, USPS Priority Mail Express.
SUPER RUSH: most deliveries arrive 1-2 business days after processing. Example: UPS Next Day Air.
We strive for same-day-as-order processing but it may be the next business day before your order is ready for carrier pickup. See the Carrier service maps for general time-in-transit until delivery are shown at bottom of this page.
The table below shows the base rate for our service regions and assumes the lowest tier for weight (0-25lbs). The shipping options, prices, and terms are subject to change without notice. Check this page regularly for updates. Certain products have higher shipping costs because of size/weight. Final shipping charges calculated during checkout.
The carriers are responsible for the handling, transfer, and delivery of your product once they receive it. Any issues concerning delivery dissatisfaction should be directed to the carrier that was tasked with the delivery of your product. We are not liable for issues resulting from the receipt, use, or shipping of a product. See our "Terms of Service" page for details.
If you haven't received your package, please first check the tracking information to confirm the status of your shipment. If it's still in transit you will have to wait until delivery or contact the carrier to arrange other pickup options. If the tracking shows the package as delivered but you have not received the package, please check around your property to ensure it wasn't placed behind/under something, was inadvertently moved, or placed in a location other than that specified on the tracking information. You should also check with neighbors to see if they received the order by mistake or have any information about the whereabouts.
If these steps have been completed and the package still cannot be located, please notify us and we will request assistance from the carrier responsible for delivery. The carrier will investigate the situation and try to track down the package. Unfortunately most packages are not located and a claim must be filed. This may take weeks. We will not re-ship the products or refund the order until a claim investigation has been completed. Depending on the situation, we may also request a police report be filed before a final resolution is completed.
Restrictions Overview

Our site only allows deliveries to addresses within the continental U.S. states, Alaska, Hawaii, and the District of Columbia - collectively known as "the U.S." or "America."
Not all products can be shipped to all addresses due to reasons such as carrier restrictions and local/state/federal laws. For example, we ship items to PO Boxes, but only through USPS. We can only ship to a single address (no split shipments). Also, certain products can only be shipped using ground services; ground-only products cannot be shipped to Alaska or Hawaii. Certain products cannot be shipped at all and are available for purchase only from a physical store.
There may be certain cases where we, at our sole discretion, will use a different carrier or method of delivery than the customer selected, or we may have to cancel a shipment altogether. We will attempt to notify you as soon as possible of learning of the issue.
Fulfillment Timeline

When an order is placed on the website you will receive an order confirmation email and our fulfillment team is notified of the new order. We pick the order and prepare it for shipment, usually the same business day. Once the order is properly packaged and labeled, you will receive an email notifying you of shipment. The carrier picks up the order and executes delivery. Actual time varies depending on day and time of order, order volume, and other business factors.
Delivery Timeline

You should expect to receive your order within the timeframes listed below. Note: the number of days listed is for the carrier to actually transport and deliver your order. Processing and packaging your order may take up to one or two business days. Most destinations are serviced within 3-4 days, even when standard shipping is selected. Choosing expedited or super rush allows us to use more expensive carrier and service combinations that have time-date promises and sets a higher priority for getting the order into the hands of the carrier.
During certain times of the year, such as around Thanksgiving, Christmas, and other holidays when normal operations are impacted, orders may take longer to be processed and delivered. Weather conditions, emergency events, and other conditions beyond the control of this site and our carriers may impact operations and result in delayed or cancelled orders. We make every effort to avoid delays and will communicate issues directly when necessary and possible.
Vendor Drop-Ship

There are a small number of products available for purchase that are shipped directly from the manufacturer or distributor ("vendor") to your specified delivery address. Vendor shipped orders are still placed using this website, but instead of us shipping the item from our warehouse or distribution center, we instead instruct the vendor to ship it. This typically results in a broader product selection, especially for large, heavy, multi-box, or hazmat orders. Shipping surcharges often apply.
Please note that there may be additional communication required for vendor shipped orders to ensure prompt delivery without issue. This is especially true for orders that require LTL/semi-truck delivery where lift gate service or special handling is required. There may also be additional fees required. Since we are not shipping the order, the carrier and service used is not normally under our control, and the vendor and their carrier/service may operate on different schedules than Farm & Home Supply.
Most vendor drop-ship orders are in transit within a couple business days and will be shipped using a standard small parcel or simple freight service provided by UPS or FedEx. You will receive communication from us with the details of your order.
Base Rate Table (up to 25lbs)
Region

Standard

(2-7 business days)

Expedited

(2-4 business days)

Super Rush

(1-2 business days)

1: IL, MO, IA, IN, KS

7.95

14.95

34.95

2: WI, MN, NE, OK, AR, KY, TN, OH, MI

9.95

15.95

39.95

3: CO, NM, TX, AL, MS, GA, WV, WY, ND, SD, LA

13.95

19.95

44.95

4: MT, ID, UT, AZ, NV, WA, OR, CA, ME, NH, VT, NY, MA, DE, RI, PA, MD, DC, VA, NC, SC, FL, CT, NJ,

15.95

23.95

57.95

5: AK, HI

19.95

34.95

N/A
Carrier Service Maps
(As of 28 June 2017 from the respective carrier. Subject to change without notice/update.)
UPS Ground Service Map (typical business days for delivery once received by UPS)
USPS Priority Mail Service Map (typical business days for delivery once received by USPS) *Alaska and Hawaii are 3-day zones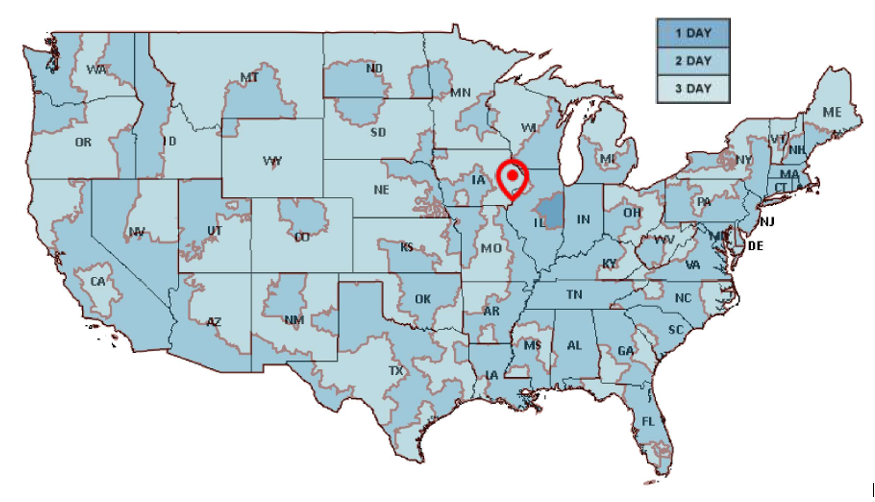 FedEx Ground Service Map (typical business days for delivery once received by FedEx)